SAILFISH presenta los nuevos neoprenos OpenWater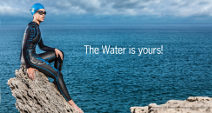 Para cubrir las necesidades específicas de los nadadores de aguas abiertas, SAILFISH ha diseñado y desarrollado unos neoprenos específicos OpenWater.
Los neoprenos de la linea OpenWater han sido diseñados para facilitar la movilidad de los nadadores de aguas abiertas, en travesías de cualquier distancia.
La combinación del neopreno con el nylon, proporciona a los EDGE (sin mangas) y EDGE LS (manga larga) unas propiedades hasta ahora no encontradas en ningún neopreno tradicional.
Estos modelos ultraligeros e innovadores, suponen el híbrido entre los neoprenos de la actualidad y un simple bañador, proporcionando una excelente hidrodinámica, flotabilidad y una movilidad global insuperable. Con grosores de entre 0.5 y 2mm, los nadadores conservarán la temperatura, con una comodidad desconocida hasta la fecha y toda la protección ante los elementos en sus entrenamientos, travesías y competiciones en aguas abiertas.
Material: 100% nylon sellado con neopreno.
Tallas mujer: WXS, WS, WS/M, WM, WL
Tallas hombre: XS, S, M, L, XL
PVP New EDGE: 199,00 € / New EDGE LS : 229,00 €
A la venta en puntos oficiales Sailfish en Febrero 2014.
Más información en la nueva web OpenWaterSwim.es y en FB.com/sailfishswim
SAILFISH OpenWater. The Water is Yours!!!
FRESH NEWS
Stay tuned for the last news in Radikal Swim's world!