Open Water Swimming in Colera: An Unforgettable Experience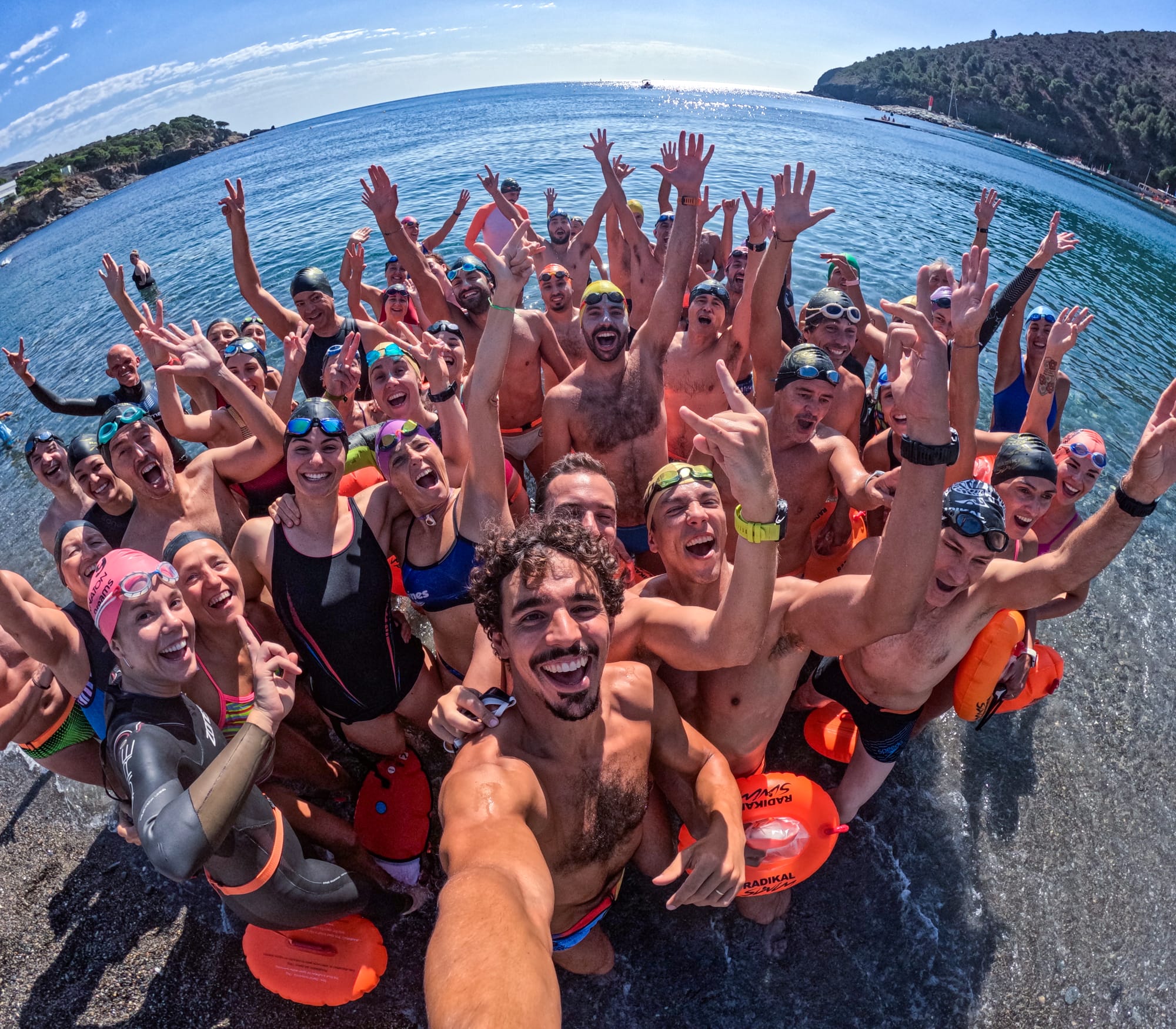 Colera, a small town located between Garbet and Portbou (North Costa Brava), was the perfect setting for a great open water RDK Experience on Saturday 15th July. Together with Team Radikal, we organized an unforgettable swim following the unique cliffs of the area and enjoying brutal rock bottoms and posidonia.
Much more than swimming in the sea
The day began with an act of responsibility and love for the sea. At 9:20 a.m., all of us Radikals gathered at Platja dels Morts for an express pick-up of beach waste. At Radikal Swim we always try to leave the sea in a better state than we found it, and this time was no exception.
Plan and Route
After the Beach clean-up and the short briefing, we started swimming at 10:00, organized into 3 groups according to their swimming pace and distance. With the aim of enjoying and exploring the natural beauty of the area, we set three different routes:
Group 1: 2'15 for 100m - Target distance: 3K - Platja dels Morts to La Veta Blanca and return.
Group 2: 2' per 100m - Target distance: 4.4K - Platja dels Morts to Cova d'en Xocolata and return.
Group 3: 1'45 per 100m - Target distance: 6K - Platja dels Morts to Cova d'en Xamuixa and return.
Each group was able to enjoy the majesty of the coast and explore unique places such as Cala Rovellada, Veta Blanca, a rare white cliff among the dark rocks and Cova d'en Xocolata, a fascinating cave with an interesting local history.
Security and Support at all times
In the commitment to safety, each group was accompanied by an Angel Swimmer, kayaks and a support boat. All of them offered their help, ensuring that all swimmers felt safe during the crossing.
AfterSwim: We celebrate with a barbecue
After this unforgettable open water experience, all Radikals joined together to celebrate with a BBQ-style "AfterSwim". Thanks to the efforts of Amalia and other collaborators, a delicious barbecue was organized with classic and vegetarian options to satisfy everyone's tastes. We were able to relax and share stories while enjoying a great meal!
Don't miss the opportunity to connect with the sea
The open water swimming event in Colera was a resounding success thanks to the dedication of the entire Radikal Swim team, the sea safety device (skippers and kayakers), the Angels Swimmers and of course all the Radikals who were part of this very special day. We want to especially thank Amalia for everything she has done to help us organize this great experience for the first time in Colera. I'm sure it won't be the last :) You're a crack!
It is amazing to experience how, over the years, swimming in the sea connects us with people with similar values and unites us in a big team open to everyone with the same way of understanding life and open water. For many more!
If you weren't able to sign up for this unique opportunity to connect with nature and enjoy a spectacular sea swimming experience, don't worry! We have more exciting adventures in store.
Don't miss the next event: Radikal ocean52 in Llafranc from October 13 to 15! We invite you to join us and other open water swimming enthusiasts in this epic experience. Registrations are open through our website radikalswim.com. Take advantage of this opportunity to live unforgettable moments in and out of the water, explore unique places and create wonderful friendships in the world of open water swimming. See you there!
FRESH NEWS
Stay tuned for the last news in Radikal Swim's world!