Después de la Radikal Marbrava 2013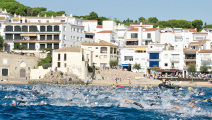 Nosotros , Dani , Sergi y Alex , tres nadadores que formamos parte del Club Natación Radikalswim , queremos agradecer a todos los que formáis parte del mundo de aguas abiertas su participación en la Radikal Marbrava.
Después de este fin de semana , y quizás sin quererlo, habéis pasado a formar parte de la experiencia Radikalswim , y sí , la travesía la hacéis vosotros y sólo vosotros.
Gracias a vosotros se respira "buen rollo" en toda la zona . Desde Calella a Llafranc o de Llafranc en Calella pasando por las islas hormigas , es igual . Todo es una fiesta , todo es felicidad , deporte , alegría y esfuerzo .... y esto nos emociona a los tres.
Nos gusta ver que la pasión que tenéis por el mar la compartís con nosotros, que nos abráis vuestros corazones y mostréis vuestras emociones . Nos llega que sentís la Radikal como uno de los lugares en los que expresar como vivís el mar y para que afloren todas las sensaciones que este os despierta.
Alguna vez nos preguntan : sin los nadadores Radikal , ¿todo sería igual ? ... gracias por dejar que os acompañamos en esta experiencia.
Un fuerte abrazo y BE RADIKAL !
Un cordial saludo del equipo del CN ??Radikal Swim y sus colaboradores
CON EL APOYO DEL AYUNTAMIENTO DE PALAFRUGELL
Os informaremos de las nuevas actividades que estamos preparando . toda la información en: www.radikalswim.com
FRESH NEWS
Stay tuned for the last news in Radikal Swim's world!