OW Event
Radikal ocean52
Feel the Radikal ocean52 experience! The 14th & 15th of October will take place in Llafranc and Calella of Palafrugell one of the most thrilling and funny open water swimming events: Radikal ocean52's 14th edition! We have prepared a lot of swims and activities: the Radikal Kids, the Radikal Relays (4x600), the Fastest Radikal, the 7.0, 3.5, 2.0 crossings and a lot of activities in the village of this event. Discover and live this amazing challenges in Costa Brava!
GENERAL SALE STARTS ON FEBRUARY 1ST!
GENERAL INFORMATION
7.0 | 3.5 | 2.0 | Village | Relays 4x600 | Last Standing | Kids
Calella de Palafrugell - Llafranc
The route of the Radikal ocean52 7.0 is exceptional. 7K for the books. The start will take place at the mytical beach Platja d'En Calau (Calella de Palafrugell) on Saturday 14th at 9am. The goal: Conquer the Formigues (meaning "ants") Islands and reaching Llafranc. It is a crossing especially designed for swimmers with spirit of adventure and lovers of the open water seas. You will be able to do your Formigues Islands assault with all the of security, so you can enjoy open water swimming in its pure form! A big quantity of buoys with helium globes on them mark the path of this swim, and you will be supported too by more than 30 kayacs, 20 security boats and Radikal Angel Swimmers that will take care of you during this challenge.
We will bring you to Formigues Islands by craft and you will have to swim from there to Llafranc. Yeah! The shipment will take place on Saturday 14th at 9am at Llafranc and the start of the crossing will be at 10am.
NEW DISTANCE - 2K! The 2.0 swim takes place in one of the most emblematic and beautiful fishing villages in Costa Brava: Calella de Palafrugell and Llafranc, along the coast. Start will take place on Saturday 8th at 12:30pm from Platja d'En Calau (Calella de Palafrugell). From there, you will swim next to the rocks and following the coast back to Llafranc in a super traditional swim. Besides, your friends and family will be able to follow you during the whole distance of the swim along the way of "Camí de Ronda" that joins both villages.
In this swim you will also be followed by all the security and support measures at your service. It is an ideal swim if you are doing your first steps in open water swimming but also if you want to challenge yourself in a short distance race, fully enjoying the Costa Brava sea and its seabed.
Radikal Kids
The day after the races, Sunday 15th in the morning, will take place the 6th Radikal Kids. Girls and boys of between 7 and 16 years old will swim from 50 to 800 meters in Llafranc. - Registration here
Last Radikal Standing

NEW!



A new one! The 2nd edition of the Last Standing challenge will take place in Llafranc on Sunday 15 at 12:30. 5 rounds of 50m will be swum per elimination, until there is only one Radikal left! The 1st classified swimmers (male and female) will take what we promise will be a BIG prize. - Registration here
Radikal Relays
On sunday it will be also celebrated the Radikal Relays: in teams of 4 members, each swimmer will complete 800m inside the bay of Llafranc. Only available for registered swimmers at 2.0, 3.5 and 7.0 open water swims! - Registration here
Besides, we offer you in an infinity of activities during the same sunday: breakfast with chocolate and croissants, talks and technical sessions related with open water swimming and physical activity, neoprene tests and other activities thought for your friends, family and kids enjoyment.
13 editions of innovation and experience
+13k swimmers have trusted us
1500 participants in each edition
PRICES
7.0: 62€ (Max. 100 registrations from 01-02 to 30-03)
3.5: 62€ (Max. 100 registrations from 01-02 to 30-03)
2.0: 39€ (Max. 100 registrations from 01-02 to 30-03)
TIME AND PLACE
Radikal ocean52 will take place on the 14th and 15th of October in Calella of Palafrugell and Llafranc (Costa Brava).
This year we will offer you a tone of activities during all weekend for everybody: kids, youngsters, adults, swimmers and no swimmers. You will be able to take part in them with friends and family, in addition to feeling the great vibe in the village of the event in Llafranc. You will also find top brands and organisations related to open water swimming.
ACCOMODATION IN RADIKAL OCEAN52:
WHAT DOES MY REGISTRATION INCLUDE?
Possibility to take part at Radikal Relays (4x800) and Last Standing with exclusive discount.
Participation at all the activities on sunday with your friends and family.
Breakfast on sunday: chocolate feast and criossants.
Official Radikal ocean52 gift
Official Radikal ocean52 swimming cap.
Finisher badge.
Radikal ocean52 online briefing.
Support of the Radikal Angels Swimmers at the swims.
Big support and security infraestructure in the sea and land.
Provisioning points: before and after each swim.
Physiotherapy service ant the finish of the challenges.
Accomodation discount in Palafrugell in hotels and apartments.
Federació Catalana de Natació insurance in all swims.
FOLLOW US ON INSTAGRAM!
#RADIKALOCEAN52
CHECK OUT OUR OTHER EVENTS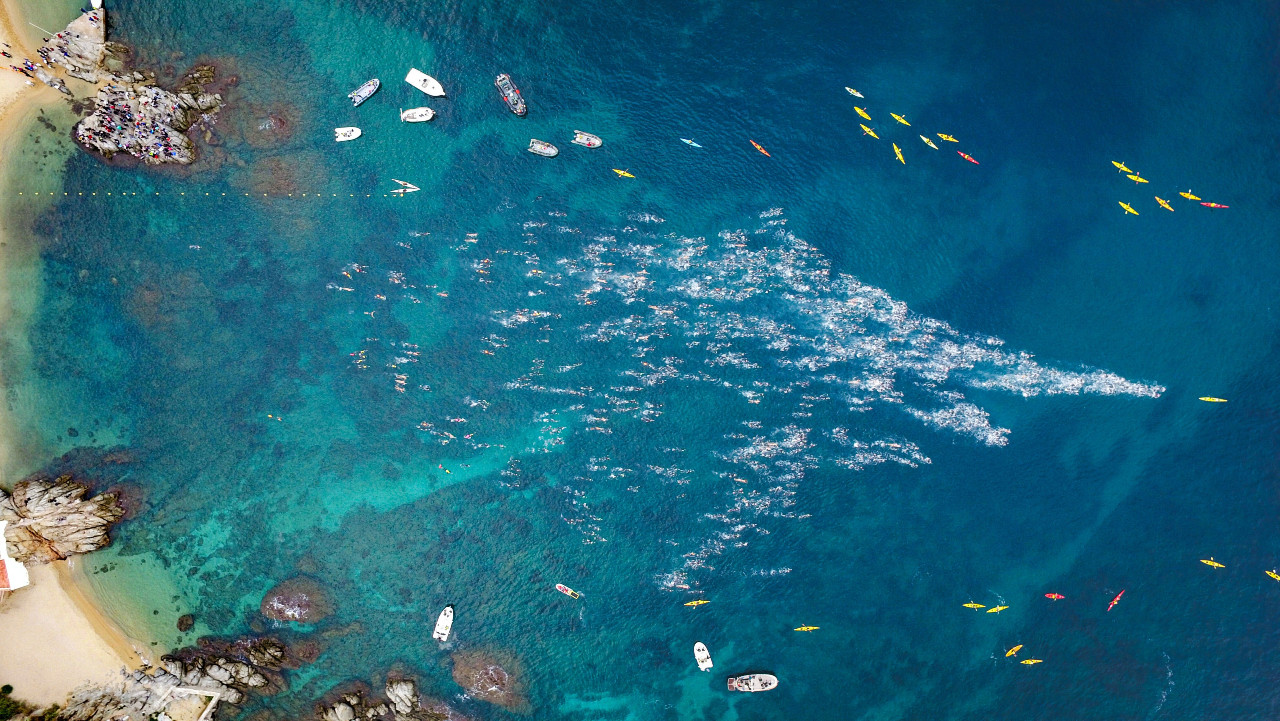 Radikal ocean52
Feel the Radikal ocean52 experience! The 14th & 15th of October will take place in Llafranc and Calella of Palafrugell one of the most thrilling and funny open water […]

OncoSwim
OncoSwim is a solidary open water swimming event organised by the Foundation Oncolliga Girona with the support of Radikal Swim. It's insignia crossing is 30km long (l'Estartit - Medes […]